CBD Moisturisers are rapidly becoming one of the most popular skin care products on the market. They are used to hydrate, nourish, and protect skin from environmental damage. So how effective are CBD Moisturisers? 
CBD moisturisers are products that contain cannabidiol (CBD) along with other natural ingredients like essential oils and herbal extracts. CBD is a cannabinoid derived from the hemp plant, which has been gaining popularity for its therapeutic properties.
CBD has been found to have anti-inflammatory properties, which can help reduce redness and irritation in the skin. This makes it a great choice for people suffering from conditions like acne, eczema, psoriasis, and other skin conditions, or for those who just want to keep their skin looking healthy and glowing.
Potential Benefits of CBD Moisturisers
CBD works by interacting with receptors in the human body known as CB1 and CB2 receptors. These receptors are part of the endocannabinoid system, a system that helps regulate various bodily functions such as sleep, mood, pain perception etc.
When CBD is applied topically to the skin, it binds to these receptors and helps to regulate inflammation which can reduce redness, itching and other symptoms associated with irritable skin conditions. In addition, CBD has antioxidant properties that can help protect against damage caused by free radicals in the environment.
Bristol CBD's Face Moisturiser is also effective at hydrating skin without feeling greasy or heavy. Unlike many traditional creams and lotions, it is fast absorbing and light on the skin. It is also non-comedogenic, meaning it won't block pores or lead to acne flare ups. 
Additionally, research has found that CBD has antimicrobial properties which can help fight off bacteria on the surface of the skin and reduce acne breakouts. Furthermore, anecdotal evidence suggests that using a moisturiser containing CBD may be beneficial for those suffering from sensitive or dry skin due to its calming effect on irritated areas.
Finally, using a CBD moisturiser can help improve overall complexion because CBD helps to regulate oil production in the skin, ensuring it remains hydrated without becoming too oily or dry.
Bristol CBD's Face Moisturiser with Frankincense and Rose has an added bonus, as the addition of organic essential oils also provide a soothing effect on your senses thanks to their natural fragrances! 
Potential Side Effects of CBD Moisturiser
Like with any other product containing cannabinoids, there is always a chance of experiencing side effects when using a CBD moisturiser. This may include or irritation if you have sensitive skin; however this is rare as most people do not experience any adverse reactions when using these products.
You should always make sure to read labels before purchasing any product containing CBD so that you know what ingredients are included in it and how much cannabidiol each product contains – this will ensure that you get the desired effects from your chosen product.  
How to Buy CBD Moisturiser
Of course we're quite biased, but based on our customer feedback we really do believe that Bristol CBD's Face Moisturiser with Frankincense and Rose is an amazing CBD moisturiser. It smells divine and the feeling we get when applying it to our skin is simply tantalising. We love how our skin feels hours later after the CBD and essential oils have been fully absorbed. Gorgeous.
But don't take our word for it. Try it out for yourself. Bristol CBD offers a no quibble refund if you are not entirely satisfied with any product.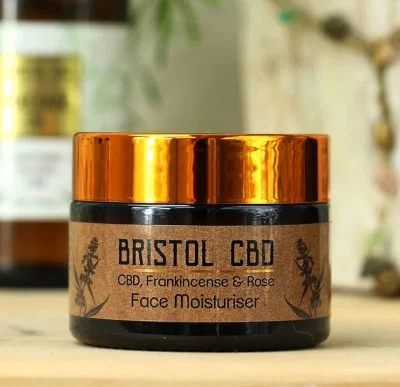 Final Thoughts on CBD Moisturisers
In conclusion, there are many potential benefits associated with using a CBD based moisturiser and if you're looking for an effective skincare regimen that won't break the bank while providing you with numerous benefits then consider giving a CBD moisturiser a try! 
However, it is important to note that although research into this area is ongoing there is still much more work needed before definitive conclusions can be drawn about its effectiveness in treating specific skin conditions or providing general protection against ageing signs like wrinkles or fine lines. 
About Bristol CBD
Bristol CBD is the most trusted CBD brand in the UK with a trust score of 4.9 stars on both Google and Trustpilot. We also offer unparalleled customer service, support, guidance and advice and a 100% money back guarantee if you are not entirely satisfied with your CBD product.
If you have any questions about how to buy or use CBD products, please feel free to call us on 07706 031 935 at any time. We are always happy to share our experiences and help people to find the best solution for their own needs.
Please note that Bristol CBD staff are not qualified doctors or nurses and therefore we do not make any medical claims and cannot recommend CBD for specific ailments. Our articles are simply based on our own research. We always encourage people to talk with their GPs, physicians or nurses before taking CBD products.