The Natural Healing Of CBD Oil
GUEST BLOG FROM D2SHINE – YOU CAN READ THE ORIGINAL BLOG POST HERE
CBD has been causing a buzz around the chronic illness community as a natural alternative to pain medication! So often something natural will get hyped and then turn out to not actually do much, but CBD really can help. As someone with Chronic Pain and Seizures i've researched it a fair bit and tried it a bit before to good effect. Bristol CBD Oil is an amazing UK manufacturer and supplier of CBD Oil who kindly gifted me a bottle of their oil to review.
What is CBD Oil?
CBD Oil is a natural oil made from the cannabis plant. Before anyone anti drugs has an adverse reaction to this- the oil doesn't contain the THC 'drug' aspect that, say marijuana has. This means that the oil is non addictive and non psychoactive.
CBD can be consumed in multiple forms such as oil, gummies, vaped or in capsules. Oil is the easiest to get hold of and consume currently.
How can it help me?
CBD can do a tonne of good, so here's some of the science behind it! CBD is extracted from hemp and contains cannabinoids and terpenes. Basically, cannabinoids are a natural chemical compound which help provide relief to a whole load of symptoms including pain, inflammation and anxiety. Terpenes enhance cannabinoids and again have been prove to help with pain and nerves. Personally I use it to help with chronic pain and seizures. It's best to let you GP know you're looking to use it if you're already on medication though.
Bristol CBD Oil
It can be pretty daunting to know where to start with CBD. I had no idea where to start! There are tonnes of suppliers popping up all over the place saying different things and offering various strengths. Bristol CBD Oil is a UK brand run by natural healthcare practitioners Koren Barnwell & Mark Dunn. They work to educate people about the benefits of CBD and work to create good quality oil from hemp.
I've found their oil to be great quality and appreciate the range of strengths for building up use offered on their site. It's definitely helped reduce my chronic pain and given me more energy!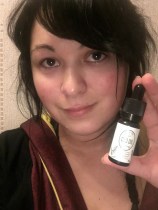 THE BLOG ABOVE IS A GUEST ENTRY FROM D2SHINE – YOU CAN READ THE ORIGINAL BLOG POST HERE
Want to learn more about Bristol CBD Oil? 
Head over to the handy Bristol CBD Guide.