Is CBD Oil Safe And Does It Work?
GUEST BLOG FROM THE FIT MUM FORMULA – YOU CAN READ THE ORIGINAL BLOG POST HERE
It's no secret that CBD oil is now on the market legally in the UK, without prescription, but what is CBD oil, is CBD oil safe, and does it work?
CBD oil stands for Cannabidiol, and comes from hemp plants which have very little THC, the bit that gets you 'high' and is found in 'cannabis' plants which are the same family as hemp, but not exactly the same. THC filled cannabis and its oil are currently illegal in the UK, though many US States have legalised it for both recreational and medical use. In the UK cannabis oil may be got through prescription in some cases, but it's not commonly done yet.
So CBD oil is a perfectly legal, plant oil extract that you can buy as easily as any other herbal tincture or nutritional oil, the difference being that CBD is proving to be really quite effective at helping a number of medical issues, both physical and psychological, it's been proven by the World Health Organisation to be 'non-toxic, non-addictive, non-psychoactive and has no side effects'.
Since it's a herbal preparation and not a medical 'drug', producers are prohibited from making medical claims – you will not be told it can 'cure' anything, because until the powers that be decide it can cure anything, sellers can't say it will.
But devout cannabis users and fans have been studying the plant (in labs, properly) for hundreds of years and more recent medical studies back up the anecdotal claims, that certain parts of hemp (and indeed cannabis itself) really can do amazing things when it comes to improving your health and helping certain conditions.
Is it safe?
CBD oil is very safe, non-addictive, non-psychoactive and non-toxic, however if you are on medication or have medical conditions, are pregnant or breastfeeding, you should always check with your doctor. Bear in mind that any hesitations are often for precaution rather than because they're a problem, so do your research and make your own sensible decisions if in doubt.
How does CBD work?
In 1992, Dr. Raphael Mechoulam, an Israeli scientist, discovered that every human and many animals have a system present in their bodies known as The Endogenous Cannabinoid System or Endocannabinoid System. This system is activated by cannabinoids.
Our bodies create cannabinoids, which are used by the endocannabinoid system to maintain balance (homeostasis) in the body. However, unfortunately most of us are unable to create enough of our own cannabinoids and therefore our endocannabinoid system may be out of balance, resulting in poor health.
The endocannabinoid system has often been described as the most important system in the body for maintaining long-term health.
Research suggests that taking CBD oil helps your body to create more of the cannabinoids needed by this system, in turn helping to maintain balance and wellbeing in the body.
My experiences
I tried the 600ml dropper bottle of 3% oil, a good starting oil, and while I was lax enough to not bother dosing exactly, I decided to use a full dropper a day, at bedtime, as the main issue I have is being able (or rather not being able) to wind down and relax in the evenings as I'm quite hyperactive. I'm also aware, as a health professional, that our bodies repair themselves while we sleep at night, so figured this would take advantage of this time when my body was relaxed enough to take full advantage of all the beneficial compounds the oil has to offer. I wasn't worried about side effects; I may or may not have dabbled in related plants as a teenager 😉
It's not the most pleasant taste – slightly grassy (it's from a 'grass', after all), and it's better to let the oil absorb through the gum walls for 30-60 seconds rather than swallow it instantly if possible, but the taste is easily disguised by having a drink afterwards, and like anything that really helps you, you'll take it if it's worth it.
I'm on the biopolar spectrum and struggle with erratic mood swings (I'm not medicated because I keep it under control with a very healthy lifestyle) and poor sleep. I get irritable and bored and angry and frustrated and elated – all at the same time sometimes! I can be the life and soul of the party, but calm isn't part of my vocabulary without concerted effort on my part.
The oil arrived a few days before my 35th birthday so I was in good spirits, and being nearly Christmas there were lots of fun activities going on. But it's also an incredibly overwhelming time of year when you have young children and you have to remember hundreds of raffle prizes, hamper donations, school fete donations, teacher presents, show costumes and carol services before you even get started on filling red sacks. Calm and resilience against the chaos was what I was hoping for, so I could enjoy the madness rather than feel drowned by it.
And placebo or not (the studies say not), I really did feel better this year. Not sleepy calm, not slower or more relaxed or lazy, but rather I really did enjoy all the business of December, genuinely. I haven't felt the usual guilt of thinking I wish it was all over and we could skip to January where routine and order would return, while also knowing that's very humbug and I shouldn't feel like that at Christmas.
I also came up with a couple of spots on my face (hormones? Trips to dirty London? Not enough sun?) so put the oil on the spots topically at night for a couple of days. The spots went very quickly – quicker than normal, and this is echoed by stories I found online, and why CBD is found in some skincare too.
Was it the oil that calmed both my skin and my nerves? Maybe. I also know that like lots of supplements, there are both short and long term benefits – things that will help your body in some way over a longer time period of regular use. It's certainly showing to be extremely beneficial for many people and I'm definitely going to try it for a longer period of time, maybe with higher doses, to see how I might benefit.
About Bristol CBD
It's always good to support British companies and while UK grown hemp is hard to find, Bristol CBD are a small UK company with big integrity, and source their oil from the highest quality producers across Europe. They have a 5* Trustpilot review and all their oils are 'third-party tested' which means they've been tested objectively in labs for quality and purity.
The oils Bristol CBD sell are 100% organic and come in a range of strengths, from 3% strength up to 20%, and they have both dropper bottles and sprays. They also give dosing guidelines – not everyone will need the same amount to benefit, and if in doubt start small and work up. There should be no unpleasant side effects, but as an example some people find falling asleep easier after taking it so are better consuming it at bedtime, whereas others are energised slightly so should stick to earlier in the day.
The oils are 'full spectrum' as opposed to isolated CBD so you get a bigger range of benefits from the different compounds, as found in the plant and as nature intended. The oils are extracted using CO2 extraction, the gold standard method for acquiring the purest and highest quality extracts while leaving behind unwanted plant matter.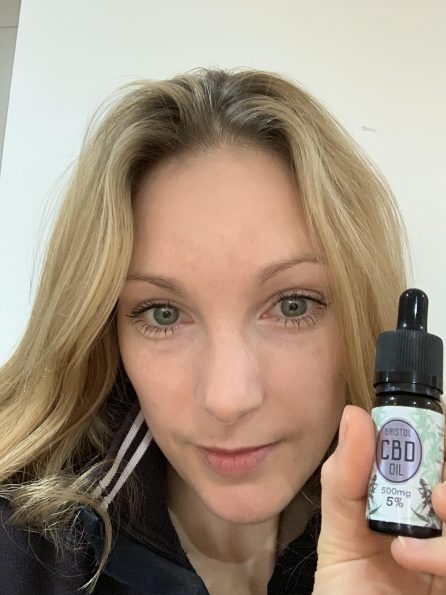 THE ABOVE BLOG IS A GUEST ENTRY FROM THE FIT MUM FORMULA – YOU CAN READ THE ORIGINAL BLOG POST HERE
Want to learn more about Bristol CBD Oil? 
Head over to the handy Bristol CBD Guide.